Pokemon Omega is a wonderful hack from Mac_Mini. Although it is based on Pokemon Ruby like other hacks, it still owns a lot of new features for you to enjoy and play.
"In the begining there was nothing when suddenl there was a massive bang that shook the univerese. It created the light, the dark, the planets the Pokemon the Humans. But with this new life came a curse. It was all doomed to fall into a nightmare. Darkrai appeared and threw it into chao's. Acrius was able to stop him and seal himself and the curse away for a millienia. Now that millenia is up and the world will be throwen into chaos once more!"
Your Dad has been missing for several years. You are a young trainer, love Pokemon and live with your Mom. One day, she asks you to go to Northcote City to collect a parcel for her from a strange Professor. When you meet him, he says your Dad is a famous scientist and maybe was arrested by the Dark Team. So you want to have an adventure to rescue your Dad and save the world. A lot of things are waiting for you ahead.
Features
New Regions: Koren & Kaioh.
New Characters
New Tiles, Sprites and Color Schemes
The Berry Tree System
All Pokemon from Generation I to IV
Screenshots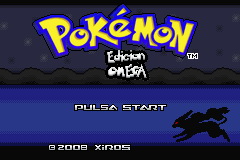 Trailers
IMPORTANT NOTES:
We have a fan website for Pokemon Fire Red Omega. You should go to this site to know how to download & play this game hack, insert & activate in-game Cheat Codes and view game quest guides/walkthroughs. Everything is free for Pokemon Fans.