Pokemon (Old) Ruby is a hack based on the famous and well-known title: Pokemon Ruby. The authors of this hack are yohaneZ MBA & Abdurahman fauzi, they are Indonesian. It is still Ruby, but not Ruby at the same time. Sounds so conflictive huh? In this game, you'll enjoy a journey of Ruby Norman – our main character as always. He is the son of a famous trainer, he wants to be the same as his father – to be the master trainer of Pokemon in this world. Let see what we got here.
Features
A new title set for this game: Pokemon Old Ruby Version. Well, the term "version" always appears in almost all of the Pokemon hacks available on the Internet at this moment.
A huge collection of Pokemon from many generations, they come together in one game.
Many new areas for you to explore. Well, surely they will take a lot of time.
There are Fakemon. Yes, Fakemon is a combination between two Pokemon at the same time. They are created by fans, not from Nintendo or The Pokemon Company. Our respectful authors have created Fakemon for themselves. You can check it while playing.
You can expect for Mega Evolution in this game. It seems that Mega Evolution is an indispensable part of Pokemon hacks these days. Your Pokemon will have many stronger forms which have never appeared in the original Ruby title before.
Besides Fakemon and the others, we still have the legendary ones. Yayyyy, many Legendary Pokemon will appear in this game (nearly all). Let's catch and train them.
Screenshots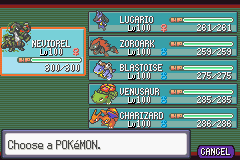 Trailers
Pokemon (Old) Ruby Download

Note:
1. Please patch it yourself. Patch the patch file into the original (based on) ROM.
2. For UPS Patch, use Tsukuyomi UPS. For IPS Patch, use Lunar IPS.
3. View the video guide at here.